Remembering to brush, rinse and floss on a regular basis is a chore by itself…even without braces. But the added nooks and crannies of orthodontics make brushing details even more difficult. Keeping your teeth clean while wearing braces surely can be a challenge and much more difficult to remove food particles that get stuck in between the teeth and brackets.
First, before your braces are put on, your dentist most probably took care of any issues you had with regard to cavities. So, you should be in good oral health when the braces go on. 
But, it is true, that cavities can develop while you are wearing your braces.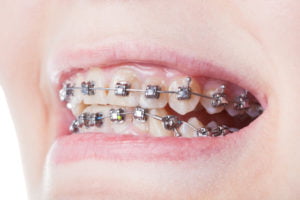 If this does happen, there are generally 2 choices for your dentist to make:
Do nothing for the time being. If your issue is found to be in very early stages, it may be possible for the decision to be made to wait until the braces come off to fix the issue.  In the meantime, your role is to take good care of your mouth while you have your braces.
Take action. The second choice might be to move forward with fixing the problem, In some instances, fillings may need to be done before braces are complete.
Regardless of what is needed, you can rest assured your dentist is working to achieve the same thing you want.  A beautiful straight smile is a goal for all of you.
Your part is to brush and floss according to the daily routine to keep as much as possible from gathering on the braces and teeth while wearing your braces.
In addition to providing tips through these posts, we're also pleased to offer a FREE report that offers important dental information. Why not get your copy now? The Consumer's Guide to Straighter, Whiter Teeth is just a click away. And it's absolutely FREE.
If you need further information, want to make an appointment, or have a question answered, you're more than welcome to call us at Airdrie Springs Dentist or click here to visit our website.
Schedule an appointment online today or call our best dentist in Airdrie on (403) 948-3575 for all your Airdrie dental offices and emergency dental care Airdrie requirements.
Weekend Dental Appointments & Late Hours Available