People of all ages, just like you, are considering orthodontic treatment for a variety of reasons. Maybe you've lost some teeth and your teeth are shifting. Or you have crooked teeth and hate your smile.
From adolescence to the senior years, you can get fitted with braces to improve your smile once again and regain good oral health.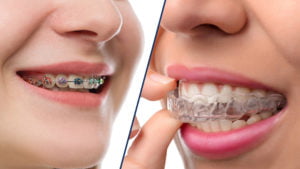 One of the most common questions dentists hear is, "How long will I have to wear my braces?" The answer basically is as long as it takes.
Unfortunately, there are many factors that go into how long the process takes for each person. Generally, however, the average length of time is less than two years, but, again, this can vary for many reasons.
For example, if you have an underlying health condition, you may require longer or shorter time periods for braces.
Health problems, such as diabetes, congestive heart failure, and cancer may impact your ability to get braces at all. And, for sure, can have a bearing on how long the braces are worn.
If you have a specific medical condition, it's a good idea to get a medical exam before consulting with a dentist to help clarify special conditions. That way the dentist can adjust the timeline for wearing braces as needed.
If you're someone who's not likely to closely follow the oral dental care prescribed for orthodontia treatment, then you may prolong the braces process.
However, if you are compliant and eager to reap the exciting benefits of an attractive new smile, you will probably wear your braces for the shortest amount of time and typically see the most effective results.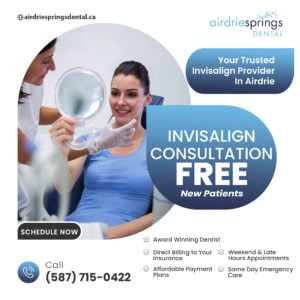 Orthodontic treatment is like other types of medical treatment. The more closely you follow the doctor's orders, the more quickly the cure will be achieved.  Unless, of course, you have a potentially disruptive medical condition.
In addition to providing tips through these posts, we're also pleased to offer a FREE report that offers important dental information. Why not get your copy now? The Consumer's Guide to Straighter, Whiter Teeth is just a click away. And it's absolutely FREE.
Schedule an appointment online today or call our best dentist Airdrie @ (403) 948-3575 for all your Dental Implants in Airdrie and Orthodontics Airdrie requirements. We hope you will give orthodontic treatment a try. We at Airdrie Springs Dental are an experienced team that's passionate about smiles, and we look forward to discussing your options!
Schedule your free consultation right here on our website, and we will work to find a time that fits your schedule, for this and all of your future appointments.
If you need further information, want to make an appointment, or have a question answered, you're more than welcome to call us at Airdrie Springs Dentist at 587 317 4161 or click here to visit our website.
Weekend Dental Appointments & Late Hours Available