Meet Our Dentist in Airdrie, AB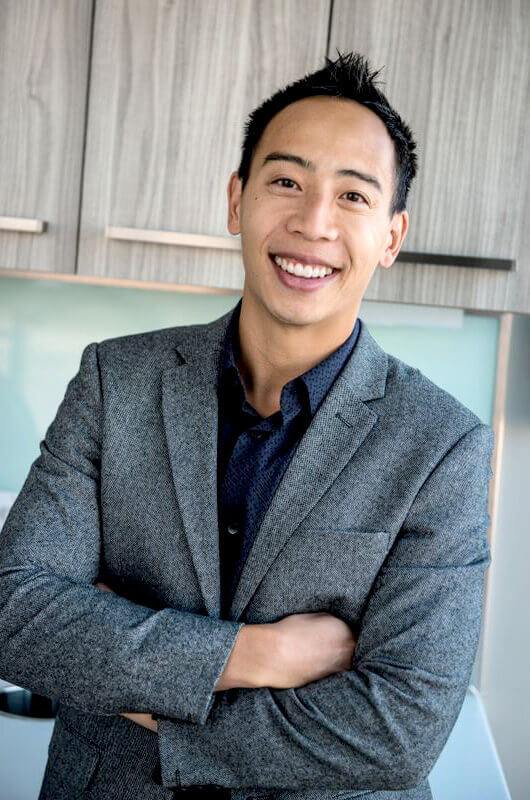 Dr. Hubert Ng, D.M.D has been part of Airdrie Springs Dental since 2007.Dr. Hubert was born and raised in Calgary. He completed his undergraduate studies at the University of Calgary, with honors degrees in both Biological Sciences and Commerce. In 2005, after graduating from the University of Saskatchewan Faculty of Dentistry, Dr. Ng returned to the Calgary area to practice general dentistry. A focal point of Dr. Ng's professional career has been staying up to date on the latest advancements in dentistry. This enables him to provide the most current treatment options for his patients. He has completed comprehensive training in orthodontics and Invisalign, oral sedation, and sleep apnea medicine. Dr. Ng believes in educating his patients and keeping them involved with their care, every step of the way. He finds it extra rewarding when patients get to their goal of comfort and confidence in their smile, and overall oral health. Dr. Ng also believes that their team's commitment to customer service starts by building a foundation of trust. This is achieved by treating their patients as individuals. Airdrie Springs Dental always focuses on providing one-on-one attention, factoring in time for plenty of questions and providing all treatment options. Dr. Hubert and the rest of the team understand how uneasy some patients may feel about their dental visits. Hence, they strive to make a difference by providing them a relaxing and positive experience. Their goal is to ensure that every visit exceeds customer expectations on comfort, convenience, thoroughness and promptness. Outside the clinic, Dr. Hubert lives an active lifestyle. He enjoys competitive running, obstacle racing, as well as playing and coaching basketball.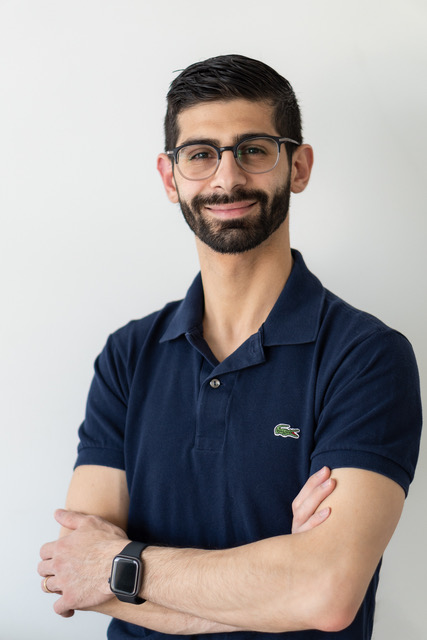 Dr. Ziad Kassas graduated from Université de Montréal in 2018 and was born and raised in Montreal. During his studies his interests in oral medicine and surgery brought him to produce a documentary about oral cancer in hopes of increasing public awareness. That documentary has been published on the Oral and Maxillofacial division of McGill University, as well as the website of Université de Montréal.
After falling in love with the mountains, Dr. Ziad moved to Alberta with his wife and 2 year old son at the time in 2021. He is passionate about all aspects of dentistry and is determined to adapt each treatment plan to your individual needs. His patients love his gentle approach and his capacity to put them at ease. In his spare time, he loves exploring nature, hiking and photography.
He cannot wait to meet all the patients new and pre-existing to Airdrie Springs!
Meet Our Team in Airdrie, AB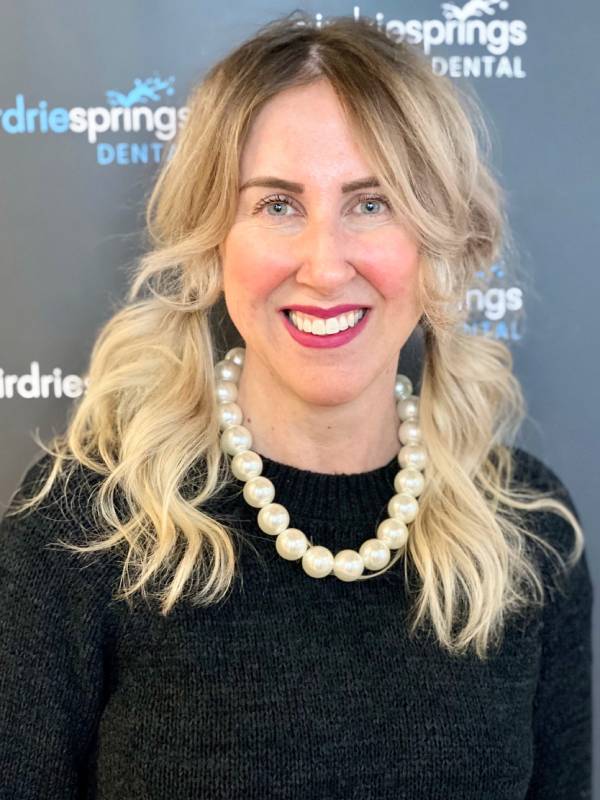 Vicki is from the East Coast and has been in the dental world for over 22 years as a registered dental hygienist. She prides herself on working with a knowledgeable team & strives to give her patients a great dental hygiene experience that is fun, relaxed and thorough. Vicki loves music and you can definitely expect to hear some chairside singing along with her infectious laugh and possibly even catch her amazing dance moves when you come to the clinic. As an avid outdoors woman, Vicki can often be found hiking in the mountains, jogging around town or walking her beloved puppy. Make sure to ask her about her caricature art next time you see her!
Fun Fact : Vicki LOVES french fries! Like a lot!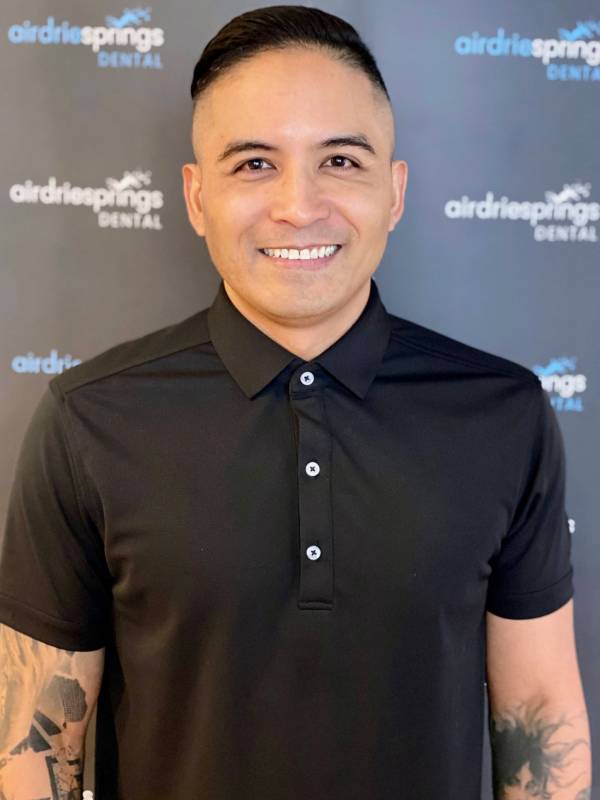 Rommel joined the Airdrie Springs Family in June 2015 and he is a fan favorite. When not in the dental clinic, Rommel loves to hit the gym, go hiking and try out new restaurants. As a self acclaimed movie buff, his favorite genre is old action flicks. Think, cheesy 80's & 90's… one might say, Jean Claude Van Damme is one of Rommel's hero's! Rommel believes his purpose is to provide each and every one of his patients a lifetime of optimum dental health through proper education and regular oral care.

Fun Fact : You can always find Rommel rocking the crocs and trading charms with his patients when you come to the clinic.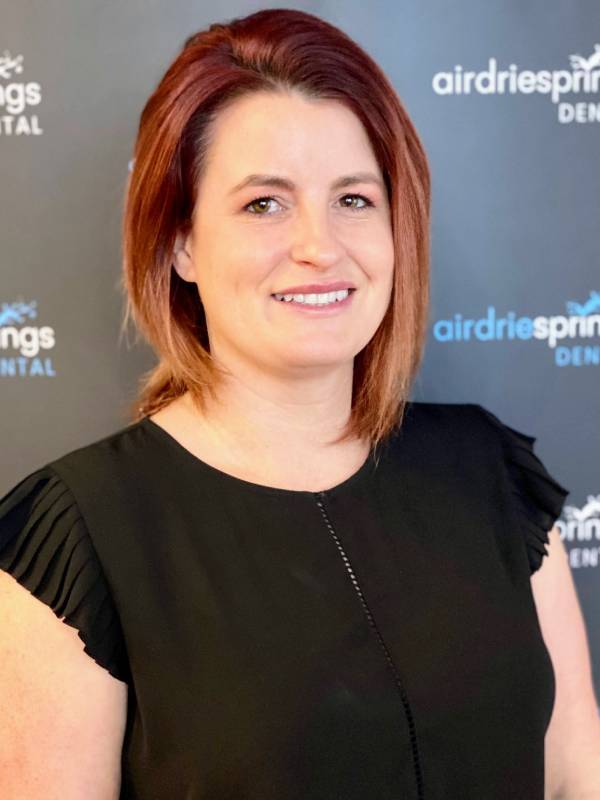 Dawn is our world traveler! She started her dental career in 2003 after graduating with her Registered Dental Assistant level 2 diploma. Taking her skills to the Northwest Territories, she traveled by plane to isolated and under-served communities to help provide dental care. Having developed her taste for adventures, Dawn headed to Ottawa for Dental Hygiene school. She then headed back west again in 2012. Dawn joined the Airdrie Springs Dental family in 2020 and has been a wonderful addition to our hygiene team. When not working, she likes horseback riding, reading and spending time with family, friends & her young daughter.

Fun Fact : Dawn lived in Hong Kong for 3 years; during this time she did as much world traveling & exploring as possible. Celina is one of our super friendly hygienists at Airdrie Springs Dental. She completed her Bachelor of Commerce at the U of A in Edmonton(her hometown) and then she headed west to follow her passion for dentistry and moved to Vancouver for hygiene school. Celina's been practicing since 2019 and has been loving every minute of it! Her goal is to provide all patients with the highest quality of care while also educating them on how to achieve their best oral health. Celina's favorite part about being a dental professional is having the ability to make people smile while feeling confident & comfortable. Aside from teeth, Celina is a self-professed Netflix addict and cannot resist a good binge-watch session.She also enjoys breaking a sweat on her Peloton bike!

Fun Fact : Celina has a pet lizard! Maileen is as sweet as pie and she has a little guy who is the apple of her eye! Mai, as we affectionately call her, joined our dental family in 2021 as a dental hygienist. She has a large extended family and this is how she thinks of her patients, as part of her family. Teaching her patients about their Oral Health is at the top of her list. She ensures they have an understanding of how their oral health can affect their whole body. Her hobbies include shopping, traveling and Axe throwing.
Fun Fact : Five Guys cajun fries & a chocolate shake are the way to Mai's heart!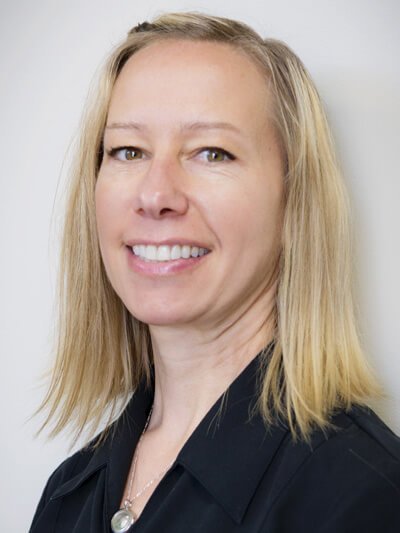 Orthodontic Assistant/ Orthodontic Treatment Coordinator
Vickie has been our Orthodontic Assistant & Treatment Coordinator since March 2011. Vickie always takes time to help patients understand their orthodontic treatment and insurance coverage details. Having done invisalign herself, she is able to give first hand tips to her patients to help make their invisalign seamless and successful. Outside of the dental clinic, Vickie loves spending time at the lake with her husband & 2 kids where she enjoys kayaking, playing guitar, cooking & gardening. Vickie also likes to indulge in a glass of wine while catching up with friends & neighbors.

Fun Fact : Vickie always has the best team spirit! She loves to help organize theme days whether at the office or the lake. Always making sure everyone has a great costume! Ortho is the name of Jean's game! She has been an orthodontic assistant for 20 years and joined our group in 2012 bringing her vast knowledge of braces and invisalign to the team. What Jean loves the most about her job is that she gets the chance to change people's lives, one smile at a time. Working with kids & adults, seeing the end result gives her great satisfaction in her work. Jean has the best laugh that can be heard throughout the office – you can't help but smile when you hear it! In her downtime, Jean likes to spend time with her family & friends and practicing yoga (especially outdoors). Oh and when Jean goes camping, it is off-grid!

Fun Fact : Jean loves to restore furniture!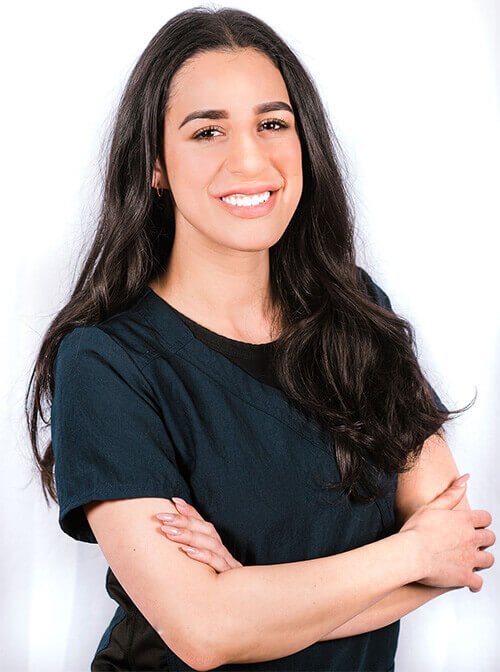 Monica completed her Dental Assistant practicum with us at Airdrie Springs Dental and loved it so much she officially joined the team in 2018. One of her favorite parts of her job are Smile Makeovers, where she is able to help a patient transform their whole smile from start to finish! Monica believes in continually growing her skills and expanding her knowledge so she recently completed her Orthodontic module. This will allow her to also assist our Ortho families! In her spare time, Monica loves spending time with her family, painting and working out at the gym.

Fun Fact : Monica's partner is studying to be a tattoo artist; next time you see her ask how many tattoos she has. Bringing with her over a decade of dental experience, Kayla has been with our team since 2021. She enjoys being super organized and has great attention to detail which means when she is not assisting patients, you will often see her ordering supplies & organizing the office. Growing up north of Cochrane, Kayla is a born & bred Albertan with a love for the outdoors & animals. She is a Mom of 2, very energetic boys and spends most of her free time, along with her hubby, in the hockey arena. Outside of the arena, Kayla enjoys spending time with her family & friends, including her horse's Nita, Jersey & Max. Her favorite color is Teal!

Fun Fact : Kayla might have a Starbucks addiction… A native Calgarian, Lisa moved to Airdrie in 2021 and joined the Airdrie Springs team in 2023. She brings many years of experience to our team & enjoys the diversity that assisting brings, from varying procedures and surgeries to chatting and getting to know her patients. With her personal approach, Lisa is happy to answer any dental questions her patients may have and strives to help ease dental anxieties. Lisa enjoys learning new technologies,techniques & continuing to develop her scope of skills. This includes the completion of her Orthodontic module so you will also see Lisa helping out our Ortho patients. Outside the office Lisa enjoys spending time with family & friends, she loves animals, reading & traveling.

Fun Fact : Lisa definitely has a Starbucks addiction!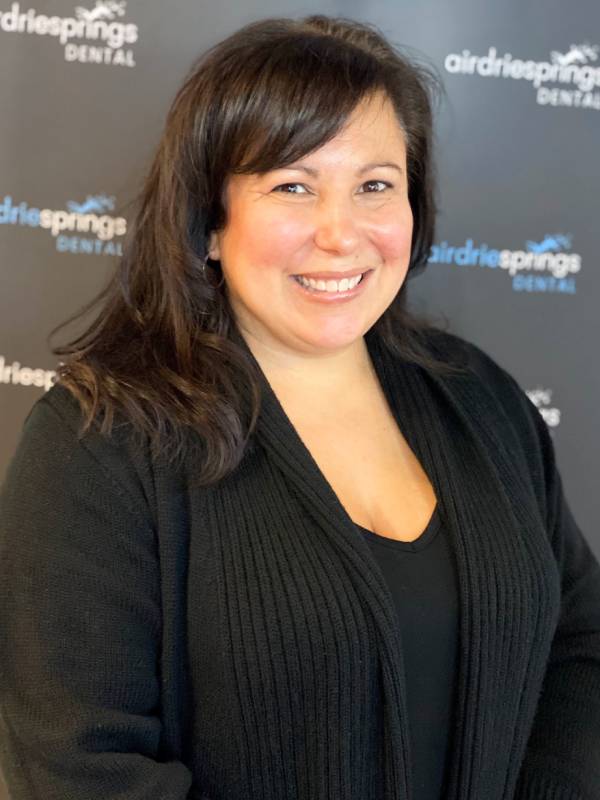 Jodi believes in working with patients to ensure they understand their dental health & treatment is essential to successful oral health. Building relationships with each patient is also key. Having joined our Airdrie Springs dental family in 2021 she brings 20 years of experience in Dental, Healthcare and the Airline Industry. Jodi loves spending time with her family & treasured puppy, Eddie, outside in the fresh air. Camping & watching her kids play sports is how most of her free time is spent. With a passion for travel, Italy is the big destination on her bucket list!

Fun Fact : Jodi is an amateur paddleboard enthusiast.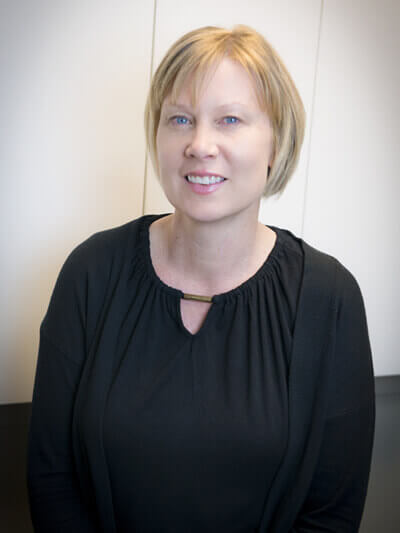 Gizelle has been a part of the Airdrie Springs Dental family since 2009. Our longest running team member. She is a fountain of knowledge for all dental administration things. When outside of the office, Gizelle loves spending time with her family and doggy, Max. Gizelle & her family are avid skiers and they love to travel. Gizelle believes in creating a smooth experience for all patients from start to finish as this can have a big impact on their dental journey.

Fun Fact : Gizelle is working towards her sailing certificate so she can sail the deep blue seas – ask her how many knots she can tie next time you see her.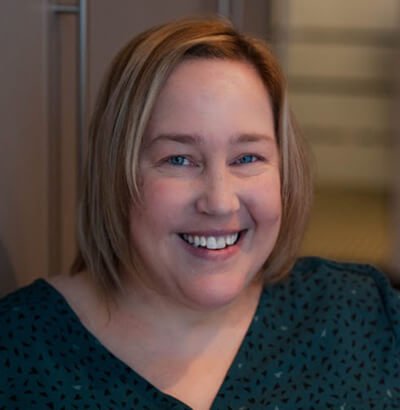 With a quick wit and a love of laughter, Natasha can be found at the administration desk sharing a laugh or story while helping sort out those tricky insurance questions. One of her favorite things is when patients come in and share a new joke or riddle with her. With the advances in dental care and amazing options for a great smile it is an exciting time to be part of a great dental team. In her own time, Natasha enjoys spending time with her family & friends whether that is at a local pub or taking in a concert or opera. She is also an avid crafter and is always taking workshops to make a new creation.

Fun Fact : Natasha has always wanted to join the circus and go on the flying trapeze or walk the high-wire! From the moment you walk through our door Tasha can be found at the front desk with a smile on her face welcoming you to the office. She has been a team member at Airdrie Springs Dental since 2019. Her greatest joy is seeing our patients smile after the treatment they have received from our amazing team! Tasha is our resident artist and loves to leave inspirational note's/drawings for her fellow team-mates. Outside of work, Tasha loves going on adventures with her hubby, 2 kiddos & 2 dogs.

Fun Fact : Tasha can do 13 somersaults in under 60 seconds!