Our Dental Team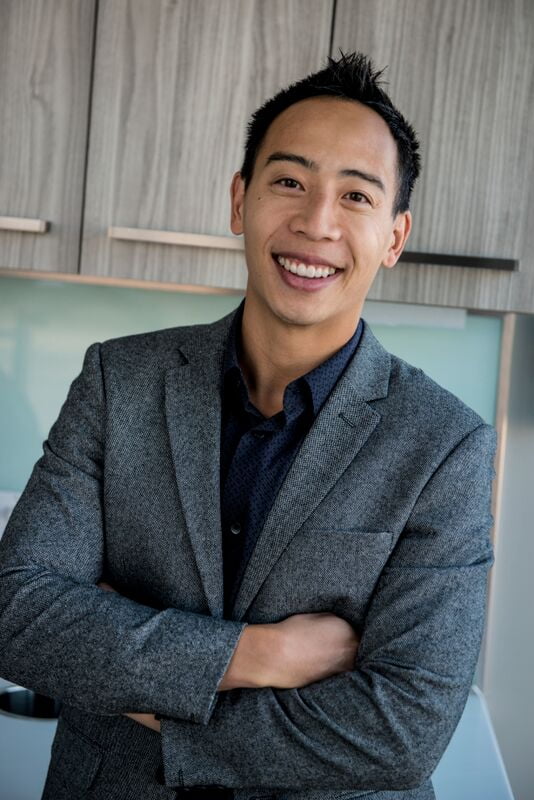 Hubert Ng, D.M.D.
Dr. Hubert Ng, D.M.D has been part of Airdrie Springs Dental since 2007.Dr. Hubert was born and raised in Calgary. He completed his undergraduate studies at the University of Calgary, with honors degrees in both Biological Sciences and Commerce. In 2005, after graduating from the University of Saskatchewan Faculty of Dentistry, Dr. Ng returned to the Calgary area to practice general dentistry.A focal point of Dr. Ng's professional career has been staying up to date on the latest advancements in dentistry. This enables him to provide the most current treatment options for his patients. He has completed comprehensive training in orthodontics and invisalign, oral sedation, and sleep apnea medicine.Dr. Ng believes in educating his patients and keeping them involved with their care, every step of the way. He finds it extra rewarding when patients get to their goal of comfort and confidence in their smile, and overall oral health.Dr. Ng also believes that their team's commitment to customer service starts by building a foundation of trust. This is achieved by treating their patients as individuals. Airdrie Springs Dental always focuses on providing one-on-one attention, factoring in time for plenty of questions and providing all treatment options.Dr. Hubert and the rest of the team understand how uneasy some patients may feel about their dental visits. Hence, they strive to make a difference by providing them a relaxing and positive experience. Their goal is to ensure that every visit exceeds customer expectations on comfort, convenience, thoroughness and promptness.Outside the clinic, Dr. Hubert lives an active lifestyle. He enjoys competitive running, obstacle racing, as well as playing and coaching basketball. Read More
Cheralyn Kelly, D.M.D.
Dr. Cheralyn Kelly joined Airdrie Springs Dental in March 2016. Dr. Cheralyn graduated from the University of Saskatchewan in 2000. She is also certified for Botox for Upper Face Treatment at PTIFA (Pacific Training Institute for Facial Aesthetics).Dr. Cheralyn feels she's able to help her patients best when they complete treatment they have been neglecting or delaying, and they finally restore their good oral health.When outside of the dental office, Dr. Cheralyn loves spending time with her three children and husband. She's a proud Ringette, Soccer, Volleyball, Hockey, Lacrosse, and Violin Mom! Dr. Cheralyn also likes gardening and playing tennis.
Registered Dental Hygienist

Michelle P
Meet Michelle, a Dental Hygienist at Airdrie Springs Dental. She joined the team May 2016.When not attending to dental patients, Michelle engages in outdoor activities with her husband, two kids, and their new puppy. Michelle is also an active member of the school's parent council. She assists in planning events throughout the year.Michelle always strives to provide patients thorough yet gentle care in a non-judgmental manner. She makes sure to create a realistic maintenance program that works for her patients.
Vicki V
Vicki has been with Airdrie Springs Dental since September 2015. She provides services as a Registered Dental Hygienist.When not in the dental clinic, Vicki enjoys running, interval training, playing soccer, hanging with her family, walking and driving with her dog, and listening to music.Even after 15 years of experience as a Registered Dental Hygienist, Vicki still feels the same joy as she did years go, treating all patients, new and old. Vicki believes in providing the same quality of care as she expects to be given.Vicki's clinical experience started in a small family clinic in Nova Scotia, then continued with Airdrie Springs Dental and couldn't be happier about it. She loves working with a great, knowledgeable team. Everyone plays a part in shaping her day and helping her improve her approach.Vicki strives to give her patients a great dental hygiene experience each time. Her treatment is always thorough but relaxed at the same time.
Rommel G
Rommel joined the Airdrie Springs Family in June 2015. He's been providing services to patients as a Registered Dental Hygienist since then.When not in the dental clinic, Rommel loves to hit the gym, go hiking, and try out new restaurants.Rommel believes his purpose is to provide each and every one of his patients a lifetime of optimum dental health, through proper education and regular oral care.
Tasha C
Tasha has been providing services at Airdrie Springs Dental as Dental Hygienist since July 2010.Tasha loves spending time at home with her dogs, Oscar and Stan. Soon she will be adding a new addition to the family. This means Tasha will have a whole new list of things to do during her free time (or perhaps less of).Tasha finds being part of every patient's experience as an opportunity to build relationships. This also allows the team to increase patient confidence toward their ability to provide quality dental care. Tasha understands that every client has unique needs and requests, which she strives to consider every time.As a dental professional, Tasha strives to offer her hands on skills to every patient. However, she also acknowledges that it takes a lot more than professional skills. It is also important that patients feel at ease and comfortable while under their care.
Our Registered Dental Assistant
Bev G
Bev has been providing services at Airdrie Springs Dental as a Registered Dental Assistant. She's been part of our team since May 2011.Bev loves reading, gardening, going to church and spending quality time with her family. She also doesn't pass up on every opportunity to try a new dessert, especially anything with a pie crust!Bev feels she's able to provide clients the best dental experience possible when she's working with the Airdrie Springs Dental team. Bev strives to understand every patient's fears and needs, and goes beyond her way to making sure they feel comfortable and relaxed.She believes it is important to educate patients about their oral health so they can, in turn, make informed decisions. Bev aspires to do whatever is necessary to make every patient's visit outstanding.
Nicole S
Precision, discipline and an all in team player are traits Nicole adds to the Airdrie Springs team. A Level II dental assistant, Nicole is the support to Dr. Ng. Nicole's passion of skating since she was 3 has provided her with a great work ethic. When she is not at work you can find her at the rink competing nationally for Solstice Synchronized Team of Calalita Skate Club of Calgary.
Registered Orthodontic Assistants
Vickie H
Vickie has been serving as an Orthodontic Assistant at Airdrie Springs Dental since March 2011.Outside of the dental clinic, Vickie loves spending time with her husband and two kids. She volunteers in her daughter's kindergarten class and in her son's grade 3 class every Thursday.Vickie loves going out to the lake for holidays. Rollerblading, gardening, cooking are also among her interests. She also enjoys indulging in a glass of wine while catching up with friends and neighbors.Around patients, meanwhile, Vickie always takes time to help them understand their orthodontic treatment better. She feels she's helping clients best when she's able to address questions regarding treatment costs and timeline, dental insurance, and appointment booking.Vickie finds working with kids extra challenging at times but as a mother herself, she does her best to encourage the little ones throughout their orthodontic journey, up until they achieve their goals.
---
Administrators
Lesli W
Office ManagerBio coming soon
Gizelle R
Dental AdministratorGizelle has been part of Airdrie Springs Dental since 2009. She provides services as a Dental Administrator.When outside of the dental office, Gizelle loves spending time with her family and dog. They love to ski and travel together.As a dental administrator, Gizelle acknowledges her impact to a patient's journey, from start to finish. Hence, she works with the team to ensure that every patient gets the best experience they could provide them as a dental office.
Sarah O
Dental AdministratorSarah has been with the dental administration team at Airdrie Springs Dental since September 2009. She believes that every patient should be provided exceptional service and quality care. She assures patients they will be handled with kindness and respect, and that that they will be provided treatment options for improving their oral health.When you contact Airdrie Springs Dental, rest assured Sarah and the rest of the team will guide you in the best way possible.When not in the dental office, Sarah loves spending time with her husband and daughter. Her family loves exploring the outdoors – hiking and traveling are among their favorite activities.